Susan Leighton
It feels like the holidays already! Today, Crown Media announced its full slate of original movies to kick off their Hallmark Channel "Countdown to Christmas" premieres. One of the films that Bruce Campbell fans have been eagerly awaiting is One December Night starring the genre icon, veteran actor Peter Gallagher and Hallmark Channel stalwarts, Eloise Mumford and Brett Dalton.
Shrouded in secrecy, not much was known about the family friendly production until now. Producer Tony Grazer previously described the venture in an interview with The Chronicle in September as being a "wonderful, heartfelt tale about friendship, music, family and the things that ultimately bring us all together."
Now, we have learned the plot of One December Night and it sounds exactly like a feel-good Christmas movie that we could all use at the moment. According to the network, the story is about "two music managers (Mumford and Dalton) who must put their history aside to oversee the televised reunion performance of their rock star fathers (Gallagher and Campbell) with a fractured past."
One of the unique features of any seasonal Hallmark flick is an original song. One December Night is no exception to that rule. However, instead of one tune, we get two! Peter Gallagher (who plays Mike Sullivan) will perform the titular number while Jasmine Forsberg (who portrays the character of Addison) will sing a song that she wrote for the movie, "Fa La La La La."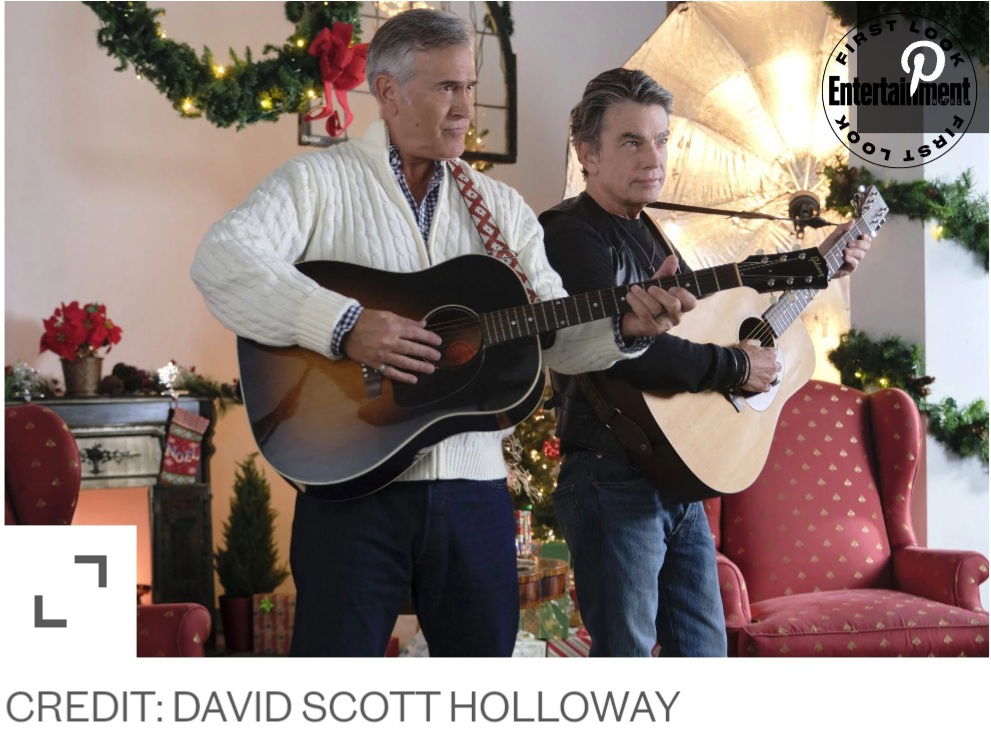 Bruce recently chatted with ScreenAnarchy about his Hallmark Channel debut. Here is what he had to say about what attracted him to the project:
"It's a classic Hallmark Christmas flick. The appeal was no blood, never having done one before and the chance to work with Peter Gallagher. He was great."
So, where can we see the actor and One December Night? The endeavor is part of Crown Media's Hallmark Movies & Mysteries Channel "Miracles of Christmas" premieres. It will air on Nov. 13 at 10 PM.
You can watch the film on the network's streaming service, Hallmark Movies Now which offers a 7-Day Free Trial or you can find the channel on Philo, Sling TV, Vidgo, FuboTV, DIRECTV Stream and FrndlyTV. For more information, click on this link.
Bruce Campbell will be appearing live and in person at several upcoming venues including The Evil Dead Film Fest in Park City, Utah from Oct. 29 through Oct. 31. Visit his website at bruce-campbell.com for event details.