Susan Leighton
Bruce Campbell is everywhere these days appearing at conventions, hosting the Saturn Awards, starring in TV series and touring movie theaters for the 40th anniversary of Evil Dead. On November 19, he returns to the silver screen in Casey Tebo's Black Friday.
After the trailer for the film dropped earlier this week, horror fans could not contain their excitement at the prospect of seeing their favorite actor in theaters again. With the holiday season right around the corner, Diabolik DVD is offering Campbell admirers the chance to pre-order their very own Blu-Ray copy of Black Friday for $19.99.
If you want to add this comedy chiller to your collection, make sure that you take advantage of this offer as soon as possible. The tentative release date for the disc is Jan. 22.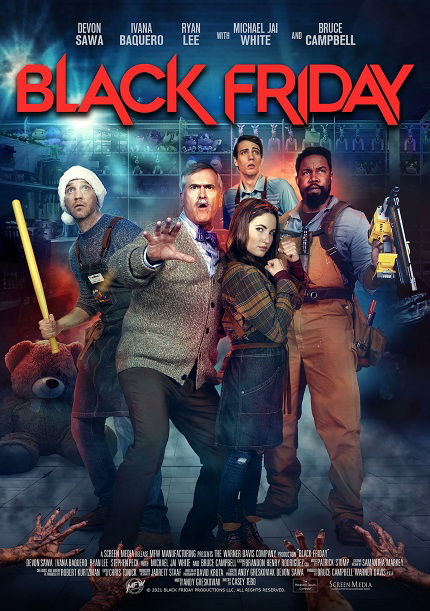 Tebo's film tells the tale of a group of disgruntled toy store employees (Devon Sawa, Ivana Baquero, Michael Jai White and Ryan Lee) and their manager (Campbell) who are working the midnight shift on the busiest retail day of the year. While they are preparing to deal with teeming hordes of customers, a meteor containing an alien parasite crashes to earth infecting everyone that comes into contact with it.
Of course, the zombie-like creatures descend upon the shopping outlet wreaking havoc. Campbell and his crew must defend themselves against the monsters if they want to survive.
For more information on how to pre-order your copy of Black Friday, click on the following link.
Please Allow 5-7 Business Days for Your Order to Ship
Times May Fluctuate Please Check Quantities, Titles, Shipping Address before Checkout
All Items Ordered Together Will Ship Together
You Are Charged at the Time Of Your Order
All Sales are Final and are Cancelable for Store Credit Only (Including Preorders)
Imports DO NOT Ship by Street Date
Your entire order will ship in full, when ALL items are in stock
Please place multiple orders if you would like items to be shipped separately