Susan Leighton
The leaves on the trees are beginning to change color, the air is getting crisp and pumpkin spice lattes are everywhere. Before you know it, the holiday season will be upon us.
For Bruce Campbell fans, winter can't come soon enough. His latest horror film, Black Friday is premiering at Fantastic Fest on Sept. 24 and is set for release in the near future. Dan Mirvish's political thriller 18 1/2 (where the thespian voices President Nixon), will be debuting at the Woodstock Film Festival later this month.
As if that news wasn't exciting enough, we have learned that the veteran actor is currently shooting a movie for the Hallmark Channel in Goshen, New York. According to IMDb, Campbell will be playing the role of Steve Bedford in One December Night. The production also stars Peter Gallagher, Eloise Mumford and Didi Conn.
In an interview with The Chronicle, producer Tony Grazer of Duet Film, LLC had this to say about the festive venture:
"It is a wonderful heartfelt Christmas tale about friendship, music, family and the things that ultimately bring us all together."
It has been a while since we have seen Bruce in a holiday themed special. Seven years ago, he appeared on The Librarians as Santa in the episode, And Santa's Midnight Run.
One December Night is set to air on Saturday, Nov. 13. Until then, if you would like to see Bruce up close and, in the flesh, he will be making several personal appearances throughout the U.S. starting in Oct. Here is his schedule: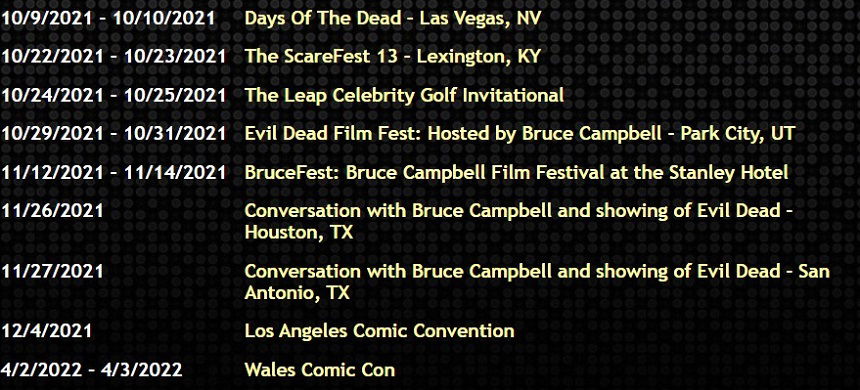 To stay up to date with the actor's events, visit his website at bruce-campbell.com. You can also follow him on Twitter @GroovyBruce.