Susan Leighton
In 1989, Bruce Campbell made a fun, quirky little horror film in Utah with David Carradine star of the hit 70s TV series, Kung Fu. If you are a fan of the Evil Dead actor then you should check him out in director Anthony Hickox's take on the vampire legend with a Western spin, Sundown: The Vampire in Retreat.
In addition to Campbell and Carradine, this production has a cadre of familiar faces in it. Genre aficionados will easily recognize Deborah Foreman (April Fool's Day), Dana Ashbrook (Twin Peaks), Maxwell Caulfield (Grease 2), Morgan Brittany (Dallas) as well as veteran character actors, M. Emmet Walsh (Slap Shot) and John Ireland (Red River).
Count Mardulak (Carradine) is a vampire who has retired to the one-horse desert burg of Purgatory. No longer interested in drinking the blood of humans, he and his fellow children of the night subsist on a synthetic version of the elixir of life. However, the pseudo plasma tastes horrible and his followers are starting to crave the real thing.
Before they can revert to the old ways, Mardulak calls in an expert to see if he can alter the formula to make it more tolerable. In the meantime, as if this problem wasn't enough, enter Van Helsing (Campbell) who is the scion of the famous tribe of vampire killers. Not only does the Count have to contend with him but he also has to quell an uprising from his rival, Jefferson (Ireland) for control of the town.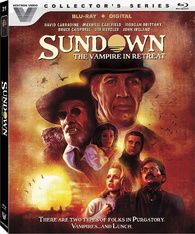 According to Blu-ray.com, this offbeat offering from Vestron Video and Lionsgate Home Entertainment will be available for purchase on Aug. 17!
Here are some of the special features and technical specs:
Audio commentary with Director Anthony Hickox and Director of Photography Levie Isaacks
Isolated score selections and audio interviews with Music Historian Randall Larson and Producer Jefferson Richard
Interviews: "Wild Weird West"
An Interview with Director Anthony Hickox "Bloodsuckers from Purgatory"
An Interview with Special Makeup Effects Creator Tony Gardner "Memories of Moab"
An Interview with Actor Bruce Campbell "A Vampire Reformed"
An Interview with Actor David Carradine "A True Character"
An Interview with Actor M. Emmet Walsh
Theatrical Trailer
Still Gallery
Optional English SDH and Spanish subtitles for the main feature
For admirers of Bruce Campbell, this flick will definitely make a great addition to your media collection.