Susan Leighton
Kitsie Duncan is a prominent paranormal investigator known for her work on Oddity Files, Oddity Files podcast and her book, I'd Rather Talk to Dead People. Her latest project, Paranormal X Road is truly unique. Sparked by Duncan's innate desire to utilize her abilities as a sensitive to help people, she has made it her mission along with her close friends, radio personality, KJ McGlinn and Spirit Medium Tiffany Rice to bring comfort and closure to individuals that have suffered tragic losses in their lives.
We were fortunate enough to speak with Kitsie about the genesis of her new show and why she feels that it is time for a kinder and gentler approach when dealing with supernatural events.
Girl Power in the Spirit World

The Screening Space: Congratulations on your latest venture, Paranormal X Road! Since Oddity Files disbanded last year, you are currently partnered with two new investigators, your friend and Kinda Nerdy Girls podcast cohort, KJ McGlinn and Spirit Medium Tiffany Rice. Tell us how you met them.
Kitsie Duncan: I met both of them through the Comic-Con convention world. So, my day job and my hobby kind of crossed paths. When we first moved to southern Indiana, there was one Indianapolis radio station that I listened to all the time. KJ was the co-host of the morning show.
I was at Chicago Wizard World and I heard her voice. It's very distinct and my son was bringing her to meet me because he knew I was a fan of the show. Our relationship blossomed from there. I guess you could say our nerdiness just kind of brought us together.
Tiffany and I met at the exact same convention where I met KJ (we were talking about this in a Zoom meeting the other day) which is really weird and really cool at the same time. Now, we're doing this together.
TSS: Do you feel that the chemistry the three of you share is one of the reasons why viewers will keep tuning in to your show?
KD: Well, I certainly hope so. It's kind of hard right now because Tiffany is not with us because she's in Massachusetts. Both KJ and I are in central Indiana so it's easy for us to head out and go to these investigations. Thank God for Zoom because that's how we can pull Tiffany in.
We will sit there and have meetings together to discuss how the series is going and what's coming up next, things like that. You know we all think alike and in turn, that's going to keep giving us the most amazing evidence for these people that are dealing with a haunting.
The Road Less Traveled…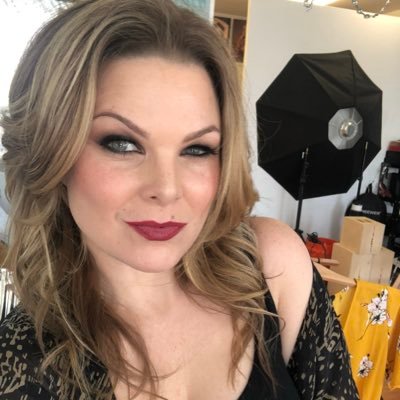 TSS: Paranormal X Road isn't your ordinary ghost hunting show. You are helping people connect with loved ones that have passed on from this realm to the next, giving them a sense of peace and closure. What inspired you to do this type of series?
KD: I had two different ideas of what I wanted to do. I do have lots of celebrity friends I've met over the years through conventions and a lot of them have said that they want to go on a ghost hunt with me. That was one thought that I was having since the Oddity Files crew broke up, I knew I wanted to take it to a completely different level, I just didn't know what the level was.
I turned to Tiffany for advice (not telling her that she would be part of this path, dealing with people who are being haunted). I will pull tarot cards for her and she will give me quick readings, it's wonderful to have one of your best friends as a spirit medium.
I told her I am looking at two paths. One of them includes celebrities and the other includes home investigations, which one should I choose? She picked home investigations.
I told her, "You really are psychic because you're included in that!" She said, "I may or may not have known that."
When I was writing my book, I'd Rather Talk to Dead People, I realized that when you are in the midst of an investigation, you don't realize what a connection you make sometimes. But, going back over everything and putting the proverbial pen to paper, the spirits talk to me.
If I can bring some good to the world with that, I'm at that age, you know, where I want to be a little kinder and gentler. I wanted to do something different. Tiffany chose wisely, unbeknownst to her. We'll chalk it up to that, it was her choice in the long run.
House of Spirits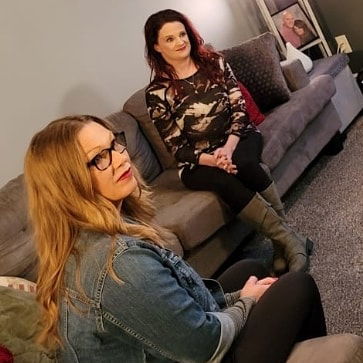 TSS: Your first episode at KJ's house was very moving. For anyone that has lost a family member, it will be a tower moment. Without giving too much away, when did she become aware of the activity in her home?
KD: KJ contacted me. She told me, "This touch lamp keeps going off. I don't know what to do. Do you want to come investigate?"
See, KJ does a lot with animal rescues in the area and she was doing a bingo night for them and her grandmother was a huge bingo player. She thought she would see if the entity was her grandmother.
So, the light would be off and she would ask, "Grandma is it you?" and then the light would turn on. That is how they would converse. I don't know what questions were asked.
That's why her grandmother came into play. When she did, then KJ's father could come in and say what he needed to say to her.
TSS: Could you feel something in the air so to speak whenever you visited her at her house prior to doing the show?
KD: KJ has many spirits in her home, to be perfectly honest. I didn't talk to any of the ones that she had told me about before this. I just spoke to her family members.
She has a Native American that hangs out at her house. There are a couple of people that came across that didn't make the episode. KJ's husband, Patrick had a wonderful friend that he lost to cancer that came through.
Both of them are so open-minded as human beings that people feel like they can stop in and say, "Hey!" I don't believe that when you cross over you can't come back. If you have free will as a human, you will have free will after death as energy, an entity or whatever that may be.
The Guardian Angel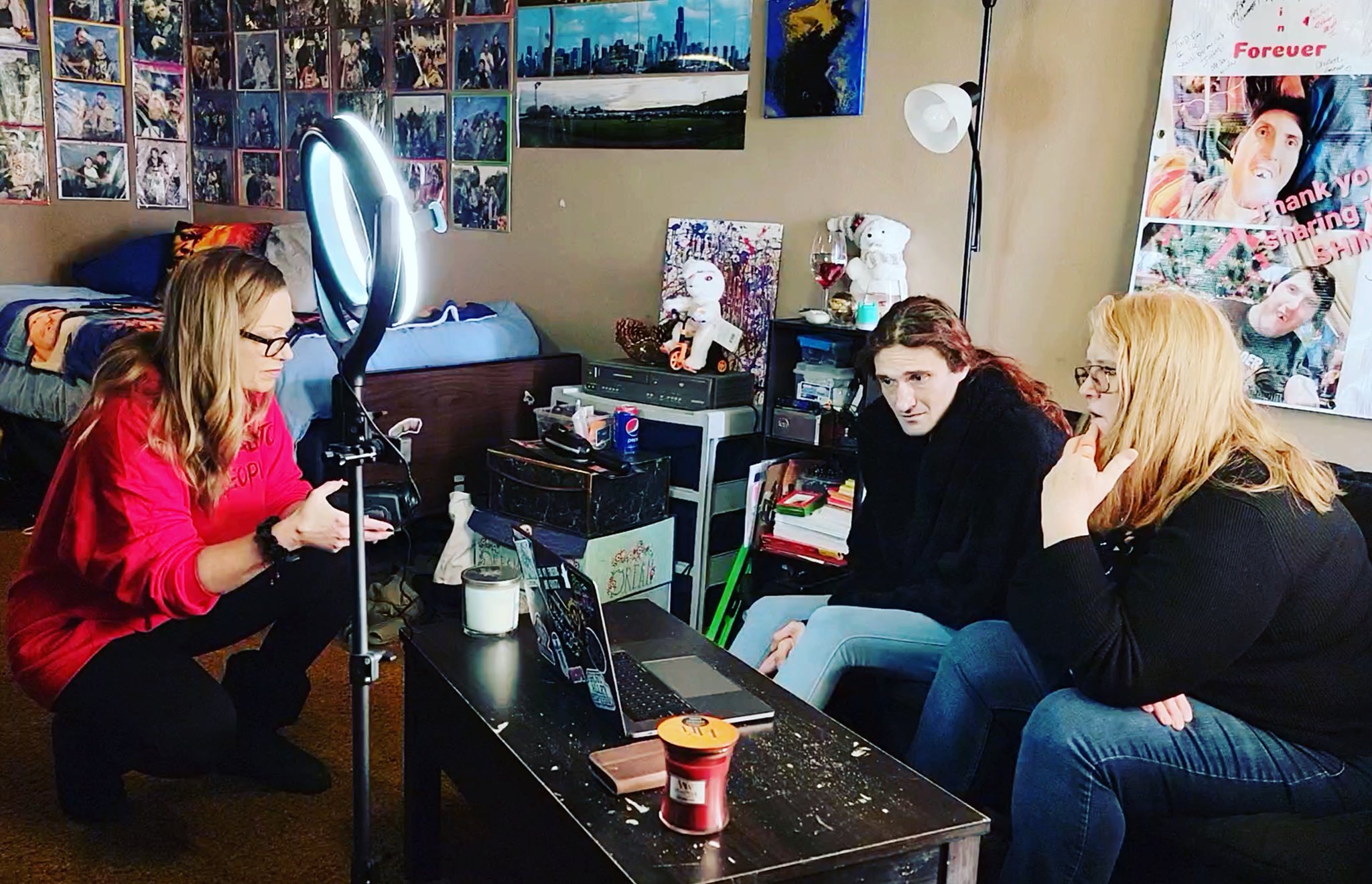 TSS: Let's talk about Justin Huff who is the subject of your second segment. You met him through Celeb Photo Ops. Is that where you struck up a friendship with him and his mother, Tammy?
KD: Yes, absolutely. I met his brothers over the years as well. He just lit up my photo op room every time he came in. I don't know, he just grabbed on to a piece of my heart and wouldn't let go.
The running thing was Justin is my boyfriend and Chris (my husband) is going to have to deal with it. Every time he would come in to the room, I would be like, "There's my boyfriend!"
His face would just light up. Tammy really liked me because I could get him to look at the camera where he didn't have a lot of control of his body as a whole.
We struck up a conversation talking about that and then I just looked forward to seeing them all the time. As it turns out, she lives in the next town over from me!
TSS: What prompted her to reach out to you?
KD: Justin passed away early last year and Tammy contacted me. She told me that she felt that she was getting signs from him and she didn't know what to do.
TSS: Tell us about some of the methods you used to make contact with Justin's spirit. We know that Tammy was using dowsing rods to communicate with her son.
KD: With this new route, when I'm trying to connect with spirits, they have not communicated with the living via any kind of paranormal equipment. So, it's not like walking into a notoriously haunted location where spirits can use any method because they know how it works.
So far, I have opened every investigation with the dowsing rods just because they are so old school. They are really easy for them (the spirits) to manipulate. It seems that way to me.
Justin was a fan of ghost hunting shows going in which I thought was really cool. I thought in turn, maybe he would try harder to make these things work.
I kid you not, he figured everything out and made it work. I was blown away. He's still using the unicorn light to communicate with his mother.
She's grieving hard and I get that. He was her life from the moment he was born. He's always around. He wants to be everyone's guardian angel.
TSS: On Mar. 26, you are doing a follow up with Tammy. Can you give us a tease about this particular show? We know that in the short video you posted on Twitter, Tiffany delivers an important message to her.
KD: There was so much. I couldn't put everything into the episode. The moment when it hit the family, was when Justin told them something that was so dead on about his older brother Matt (who was able to make the second investigation) that I didn't know, KJ didn't know and there was NO WAY Tiffany would have known. It involves a number and a color. Their minds were blown away.
The Wave of the Future Is Kinder and Gentler

TSS: Do you have any future investigations in the works?
KD: I have two next week. It's blown up. We're actually going to help someone who is being haunted at their place of work.
So, that will be something different for KJ to investigate but it's kind of going back to me. This is a notoriously haunted location. Although, it hasn't been investigated very often. The guy is terrified of it. He's locking doors and running out of the place at night because he's so creeped out about it.
We also have another home investigation. We're hoping to help a young, grieving lady deal with the unexpected death of her father.
TSS: What do you envision for Paranormal X Road? Do you hope to pitch it to a network in the future?
KD: I really want to. I am learning that side of things. I know the Amazon Prime deal; I can get a show up there. Tubi's easy. YouTube is a piece of cake.
Now, my next challenge in life is to get Travel Channel to notice what we're doing here to realize females can investigate on their own and get results. I'm not dissing all male paranormal investigators by any means.
I just feel this is what the world needs right now. It needs a kinder, gentler paranormal investigation show where it feels good in the end.
We hope to see Paranormal X Road on discovery+ in the future! A special thank you to Kitsie Duncan for her time and if you would like to contribute to Tammy Huff's #TeamJustinForever Headstone Fund, click on the link.