Jeri Klein
Once a year, magical beings grace our television screens. We rejoice in the festivities they bring, and make merry in their honor. We tell tales, sing songs of old, and watch with bated breath as these entities — our favorite majestic creatures —migrate across the seas.
It truly is the most wonderful time of the year. That's right, fellow humans. It's Shark Week on discovery+!
This year's lineup is fin-tastic! From exploring underwater worlds with your favorite celebrities to capturing never before seen footage with world renowned marine biologists, Shark Week 2021 has it all. With 45 hours of programming, the most in Shark Week's 33-year history, you know it's going to be jaw-some!
However, what if you don't have time this week to dive into every single shark show? Fret not! We've got you covered with our top picks (although we do recommend watching all the shows, eventually because well, it's Shark Week).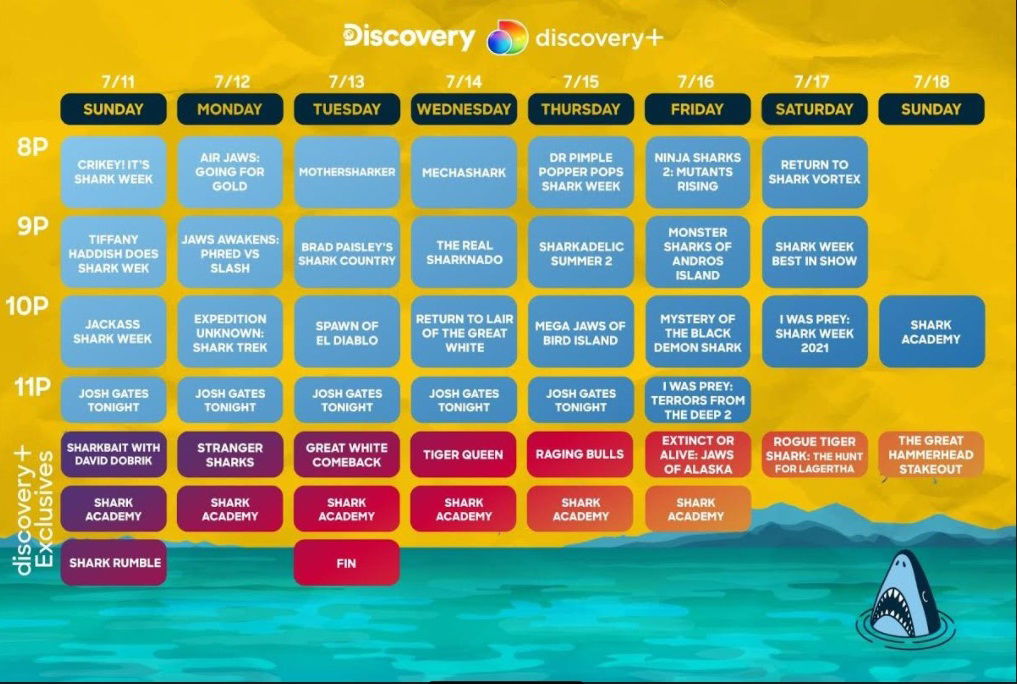 Air Jaws: Going for Gold
Chris Fallows and his team are back for another addition of this classic Shark Week series that's sure to turn even the most apathetic viewer into a shark fan for life. This season, they have one goal: to film the highest great white shark breach on record. Rocket Shark holds the current record at 15ft but another great white shark could blow that number out of the water in a single swoop. Watch Air Jaws: Going for Gold on Monday, July 12 at 8 PM ET. Stream next day on discovery+.
The Real Sharknado
We've all seen the franchise. We know there's no such thing as a tornado filled with sharks that are out for blood, right? But what if there was just a smidge of truth to that? What if there's some type of natural disaster that could push sharks (or smaller animals) through the air and make it seem like they were targeting humans?
Sounds like science fiction, right? Probably, but watching Ian Ziering and Tara Reid debunk all the theories, chainsaw in hand, sounds like a damn good time. And who knows. We just may learn a few things, and discover the next "so bad its good" horror franchise in the process. Watch The Real Sharknado on Wednesday, July 14 at 9 PM ET. Stream next day on discovery+.
Expedition Unknown: Shark Trek
This one needs no introduction. Josh Gates and William Shatner, going where no Shark Week crew has gone before. Their mission? To dive in tiger shark-infested waters in order to learn why these creatures illicit such a strong fear response in Homo Sapiens. Because its Josh Gates and William Shatner, you know the banter will be quote worthy and the conversations will be awe-inspiring. Also, tiger sharks are pretty cool too. Watch Expedition Unknown: Shark Trek on Monday, July 12 at 10 PM ET. Stream next day on discovery+.
Josh Gates Tonight
Back when the world shut down, and travel shows were grounded, Josh Gates found his footing (and possibly true calling) via a weekly talk show, aptly called Josh Gates Tonight. It was truly a beacon of light during all the craziness and set the standard for what positive, family-friendly talk shows look like.
Now, for the first five days of Shark Week, he's back again, interviewing Shark Week fan favorites, mixing daily shark week cocktails, and chatting with his statue friend Gabe (fingers crossed Gabe dons a shark hat). Watch Josh Gates Tonight on Sunday July, 11 through Thursday July, 15 at 11PM ET. Stream next day on discovery+.