Susan Leighton
After getting sidelined by COVID-19, production has wrapped on Sam Raimi's Doctor Strange in the Multiverse of Madness according to MCU head honcho, Kevin Feige in a recent interview on The Undefeated YouTube channel. This is great news for fans who were concerned about the film making its release date of Mar. 25, 2022.
Of course, Feige didn't divulge any details on the Raimi venture except to acknowledge that he was in London. However, there has been quite a bit of internet speculation on the cap he was wearing. Apparently, ComingSoon.Net believes that the design featured on his head gear might be the official logo for the film.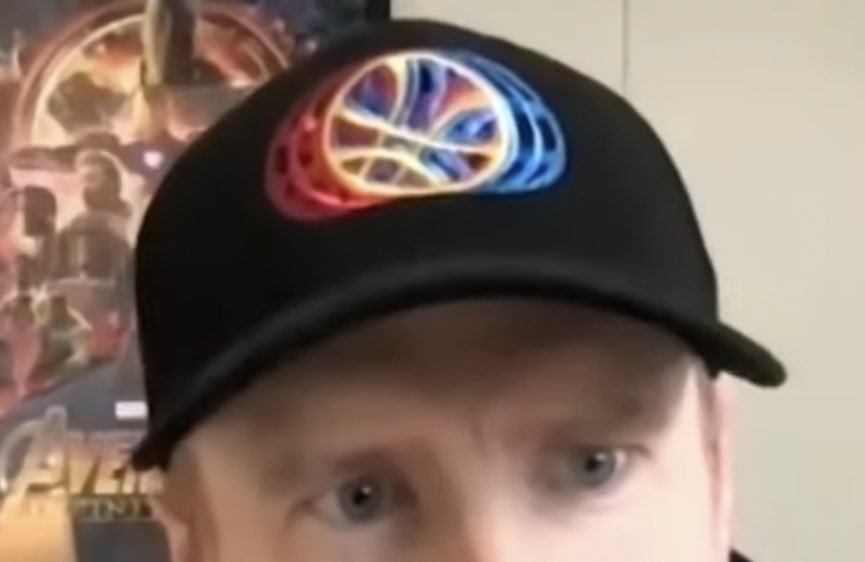 In typical Marvel fashion, no photos were leaked from the set. Everything surrounding the Raimi flick has been top secret.
The only information that has been made public is that Benedict Cumberbatch, Rachel McAdams, Chiwetel Ejiofor and Benedict Wong are reprising their roles from the original epic and that Xochitl Gomez has been added to the cast as America Chavez along with Elizabeth Olsen portraying Wanda Maximoff/Scarlet Witch. Although, Bruce Campbell confirmed via Twitter and during a broadcast of his Last Fan Standing trivia game show on Wizard World Virtual that he would be working with his longtime pal again, we don't know who he will be playing.
Now, the next big question is when will we get to see the first trailer for Doctor Strange 2? While San Diego Comic Con is fast approaching (July 23-25) and a teaser MIGHT be possible, we are thinking that based on the timing of other MCU films like Avengers: End Game and when they released their first promos, New York Comic Con (tentatively set for Oct. 7-10) seems more likely.
This is just a hunch on our part since we don't have any insider knowledge but it would be perfect timing and the ultimate in showmanship to debut a sneak peek at the East Coast's premiere convention. It would also be pretty spectacular if Sam Raimi, Benedict Cumberbatch, Kevin Feige and other cast members were to do a virtual panel. Plus, it would make a great early holiday gift for Marvel fans!
Until then, Doctor Strange lovers can keep up to date with all things in the MCU by visiting the official Marvel website.