Jonathan Weidler
If it wasn't for Terry Zwigoff's documentary on underground cartoonist R. Crumb, I never would've crossed paths with Daniel Clowes' graphic novel, Ghost World. Therefore, some heartfelt thanks are in order.
I first watched Zwigoff's Crumb in my late teens, and quickly became fascinated with the Philadelphia-born artist, whose autobiographical and cultural commentary wandered far afield of the politically-correct funny pages. This led me to Comix Connection (York, PA's premier comics store), where I snatched up their entire stock of "The Complete Crumb Comics."
On a subsequent visit, I asked a helpful clerk if there were any other artists he'd recommend based on my interest. And with that, he pointed me to Ghost World.
Originally serialized in Clowes' Eightball, the turquoise-hued panels amplified the melancholy at the heart of the tale of two girls – Enid Coleslaw and Rebecca Doppelmeyer – at a post-high school crossroads. Wanting to prolong the carefree days of youth, they also react in wildly disparate ways to the siren song of adult responsibility (employment; college; moving out of dad's house).
Clowes' tale felt more like a series of vignettes than a straightforward narrative. While the story begins and ends at a distinctive place, each "chapter" is driven by dialog, emotion, and acerbic humor. The drawing style ranges from slight exaggeration to macabre caricature – all the better to emphasize the suburban oddballs who drift into Enid and Rebecca's orbit.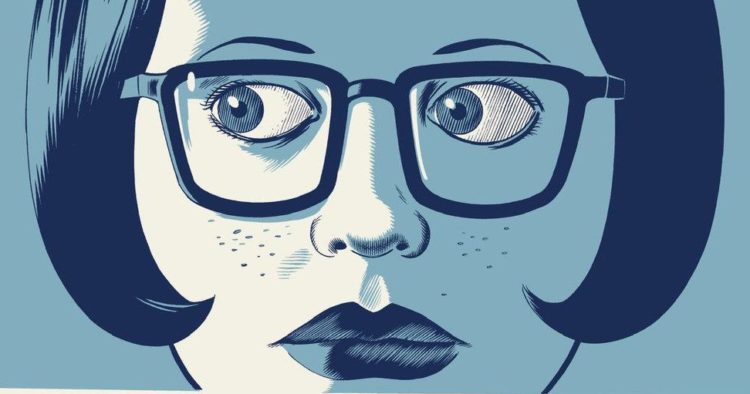 Similar to how Crumb depicted an artist wrangling with personal demons and "outsider" status, Ghost World made me feel more validated about the existential impasse I felt after high school ended and the so-called Real World beckoned. When Zwigoff's live-action adaptation of Clowes' graphic novel was released in 2001, it represented a synthesis of two artists' mutual understandings of the alienation people feel in a country where conformity is the norm.
Their collaboration on the script led to a unique creation indicative of their weathered – but not hopeless – mentalities. The most interesting by-product of creators and character comes in the form of Seymour (Steve Buscemi), a socially awkward record collector who delivers one of the film's best lines: "I can't relate to 99% of humanity!"
At once a hybrid of Zwigoff and Crumb's own well-documented collector lifestyles (and self-deprecating demeanors) and Clowes' own nostalgia for the pre-digital era, Seymour is a totem of another time. That said, he's an outsider who's also carved out a niche for himself in modern America.
The unwitting subject of a personal-ad prank call by Enid (Thora Birch) and Rebecca (Scarlett Johansson), the former finds herself feeling guilty over the act, and attempts to right the wrong by setting Seymour up with a girlfriend. Along the way, Enid finds herself in a seemingly irreconcilable spiral where she is torn between retaining her sarcastic, faux-disaffected persona and accepting the demands of adulthood.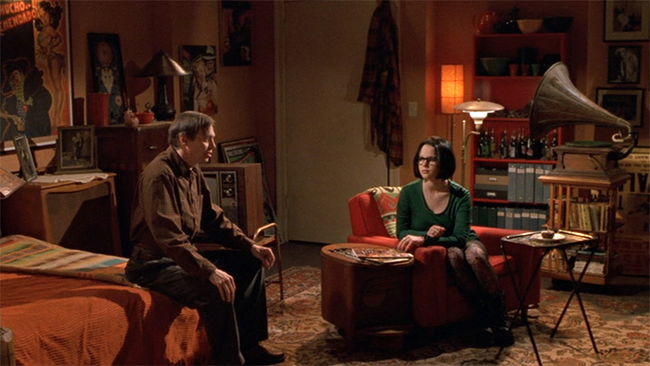 Meanwhile, Rebecca – eager to maintain their friendship but move on with her own life –begins a job as a barista and starts looking for apartments. As a twentysomething who had no real drive toward "making a life for myself" (at least not in the 9-to-5 sense), I related to Enid's confusion and reluctance.
I didn't realize that, 20 years down the road, I'd also find an all-to-real comfort in Seymour's jaded demeanor. Which leads to another great line: "You can't carry on healthy relationships, so you surround yourself with stuff."
Lester Burnham (Kevin Spacey) said something similar in American Beauty (which co-starred Birch). But consider how the online landscape has come to embrace (or at least popularize) the collector mentality...though one could posit that making YouTube videos isn't necessarily a healthy substitute for human interaction.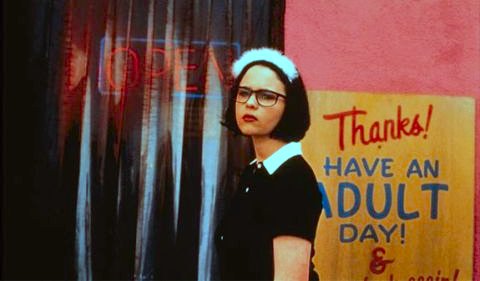 But I'd be lying if I said I didn't own more music, books, and movies than I know what to rationally do with. Ghost World conveys that the romanticism of youth comes with its own rose-colored glasses. We don't need to know Seymour's backstory, because Enid – in her own way – is living it.
Her first wrinkles of moral wrongdoing are so subtly rendered, it makes her character's arc feel all the more revelatory in the end. These are post-pubescent growing pains, realizing that the arrival of conscience brings its own murky complications.
But in the end, Ghost World endures because Clowes and Zwigoff not only bring well-trod angst and "outsider" iconography to the fore, but deeply understand these perspectives. In the process, they disassemble the cynical teen-movie cliches that dominated late-'90s cinema.
Youth is not all good times; neither is adulthood. And no matter how caustic or heartfelt the dialog, it's delivered by a gifted cast that knows these sarcastic and longing places, deep in their bones.