Jonathan Weidler
After coming home from Last Night in Soho, it occurred to me that Thomasin McKenzie (Jojo Rabbit) reminded me a lot of Amanda Plummer in Needful Things: the timidity, the short stature, and the quiet voice that betrays a head full of self-doubt. McKenzie is excellent here, our unlikely tour guide through London, which is repeatedly referred to as an intimidating place.
And perhaps it was because a neighboring theater was playing Dune that the dialog in Soho felt pitched at a whisper. Or maybe this was because the musical numbers came on so loud and forceful that it would've been jarring to the viewer. I found myself leaning in closer, trying to make out what was being said – as if the characters couldn't risk their sentiments and secrets being heard by the world at large.
There's something to that low-level whispering that permeates Soho: while most reviews have fixated on its style (of which it has plenty), the core of its being belongs to McKenzie's Eloise, an isolated girl with the ability to "witness" events from the past. She heads to the University of the Arts for fashion design, rents a room, and finds herself tripping down a rabbit-hole into the swinging sixties.
The script can't avoid certain perfunctory occurrences to set up the story proper: Eloise fails to adapt to collegiate party life, becoming the target of some vapid "mean girls," and makes eyes with a potential paramour in her design class (Michael Ajao). That said, McKenzie renders loneliness and trepidation with a naively heartbreaking passion. Because of her "difference," Eloise feels out of place in the modern world, and this dislocation plays into her attempts to carve out her own identity.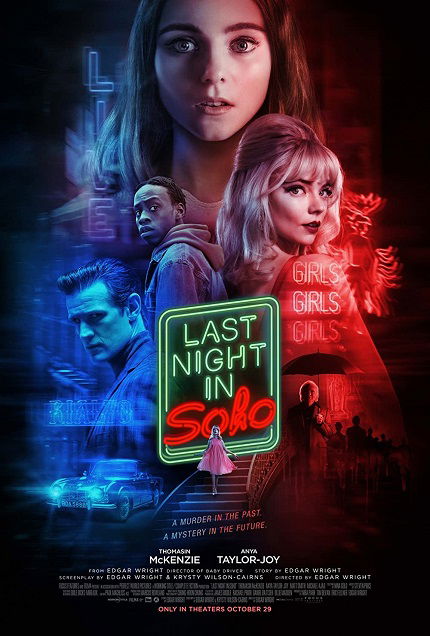 Enter the gorgeous Alex (Anya Taylor-Joy), who appears in one of Eloise's many dreamlike descents into 1960s London. Coming to the city with aspirations of being a famous singer, Alex cozies up to Jack (Matt Smith), a talent agent who promises more than he can offer. As Eloise grows more entangled in living vicariously through Alex, her own identity becomes more muddled.
But all is not as it seems in the idyllic world of '60s showbiz, and director Edgar Wright (who co-wrote the script with Krysty Wilson-Cairns) shifts genre gears with great confidence and efficiency. His films tend to be a hopscotch of homages, but the through-line is often his characters' arrested-development innocence. There's always a clear distinction between the "light" and "dark" sides of humanity. Rare are his descents into truly unsettling terrain.
Maybe that's why I like Soho more than his other stuff. The build-up is so deliberate, you begin to wonder if the film is simply a bridge to nowhere – just style on top of style. But around the midpoint, it transforms into something complementary to Eloise's journey, discarding naïve perceptions of the world and facing its unforgiving reality.
To go into detail would do the story a grave disservice, as would rattling off the list of influences that Wright lovingly quotes from. I will say that, as love letters to a specific time and place goes, Soho runs circles around the rudderless Once Upon a Time in Hollywood. Outside of some half-realized morality in its final minutes, Wright does a very good job of blending a ghost story, a coming-of-age tale, and a tribute to the ornate sets and lighting schemes of Mario Bava and Dario Argento into its own unique thing. If anything, Soho may be too enamored of all these elements, to the point where a scaled-back script might have yielded a more profound result. But I admire its ambition and execution, bringing elegance and legitimacy to a proudly pulpy B-movie.
And – it cannot be said enough – McKenzie is amazing in this. She joins the ranks of great cinematic mediums like Pamela Franklin in The Legend of Hell House and Kristen Stewart in Personal Shopper. As with those outstanding performances, she's the heart and soul of Soho.