Susan Leighton
Screw critics. There, I said it. While I grew up enjoying Roger Ebert, Gene Siskel, Pauline Kael and other scholars of cinema, their opinions did not influence me one way or the other when it came to seeing a film.
I am quite capable of formulating my thoughts on movies without any help, thank you very much. There were many occasions when I agreed with their assessments. However, when it comes to Sam Raimi's For Love of the Game, I respectfully disagree with many of the views of those top journalists.
If I paid any attention to Rotten Tomatoes, I probably would have written this particular work off as a "misstep." For those of you that haven't seen this production, I won't give away any crucial plot points.
The story is about a 40-year-old pitcher for the Detroit Tigers named Billy Chapel (Kevin Costner) who has seen better days and is now at the end of his career. After playing a game that he has adored for most of his adult life, he is faced with the prospect of losing his livelihood and the affections of writer Jane Aubrey (the late Kelly Preston) the only woman that he has ever given his heart to.
For Love of the Game is a sports movie and a romance. Two subjects that don't readily spring to mind when thinking about Raimi as a director. However, one could argue that the relationship between Peter Parker and Mary Jane Watson in the Spider-Man trilogy is incredibly romantic.
Even Darkman is driven by matters of the heart as is Evil Dead. Yes, you read that correctly. Ash and Linda and the scene where he gifts her with the pendant is quite touching.
So, it is no great revelation that Sam Raimi is a versatile creative. Just peruse his filmography in IMDb and amidst the horror you will find such gems as the critically acclaimed, A Simple Plan.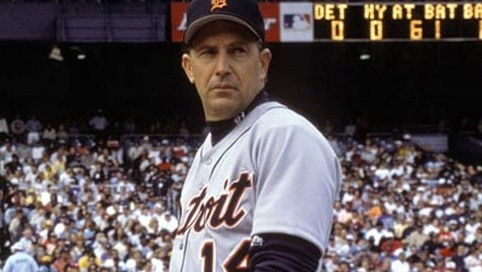 Kevin Costner's "Chappy" is very reminiscent of Crash Davis from another little baseball film that he did called Bull Durham. Billy is Crash if he made it to the "show" for more than a cup of coffee.
Since most of the movie deals with flashbacks and Chapel's running monologue in between pitches during a critical game, the actor has to convey the turbulent emotions that he is experiencing internally on his face during tight close-ups. Not an easy feat and Costner definitely rises to the occasion.
Kelly Preston is channeling Meg Ryan to some extent but her performance is extremely heartfelt. She struggles with her feelings for Billy and the fact that he is famous is somewhat of a detriment. Jane has a hard time trusting him because she doesn't want to be a "groupie." Over time, she learns to open up and the pair form an unshakeable bond.
Unfortunately, when this film premiered, Raimi fans weren't ready for this sentimental flick. Let's face it, most moviegoers just want to see him do versions of Evil Dead and his patented "splatstick." If it sounds like I'm being harsh, maybe I am.
Sam Raimi made comedy shorts as a youth growing up in Michigan. He and his producing pals (Rob Tapert and Bruce Campbell) decided on horror as the genre for their first professional effort because it was what was popular at the drive-ins during the 70's.
Just because scary movies are Raimi's bread and butter, does that mean he can only do films in that arena? I think his success with Marvel proves that he has more up his sleeves than gallons of blood and gore.
For Love of the Game is a fine film. If you enjoy Sam Raimi as a director, give it a chance. Who knows? You might end up thinking it deserved better, like me…