Adam Forsgren
On its surface, Truth Seekers is a horror/comedy series about a team of part-time paranormal detectives who find themselves entangled in a plot by an evil prick trying to reach a paradisical world. It's got blood, ghosts, chilling, creepy scenes, a few laughs and Malcolm McDowell.
That's a pretty good recipe for a fun time, and that's before you get to the presence of Nick Frost and Simon Pegg, two of the most reliable comic actors working today. If that was all Truth Seekers was, it would be worth the four hours it takes to watch all eight episodes that are currently available.
But Truth Seekers has more on its agenda than just making you laugh and then creeping you out. The show also digs into the ways trauma and loss can completely derail a person's life and send them down paths they never planned on traveling.
The show stars Frost as Gus Roberts, the best installer employed by Smyle Broadband. One day, his boss, Dave (Pegg), calls on him to train up new hire, Elton (Samson Kayo). As they go about their work, Gus reveals that he has a YouTube channel called "Truth Seekers" where he investigates the supernatural.
Astrid (Emma D'Arcy), a young woman who's haunted by terrifying visions joins the boys followed by Elton's sister, Helen (Susan Wokoma), and Gus's dad, Richard (McDowell). They soon find themselves swallowed up in a plot by Dr. Peter Toynbee (Julian Barrett) and secrets about the main characters are revealed.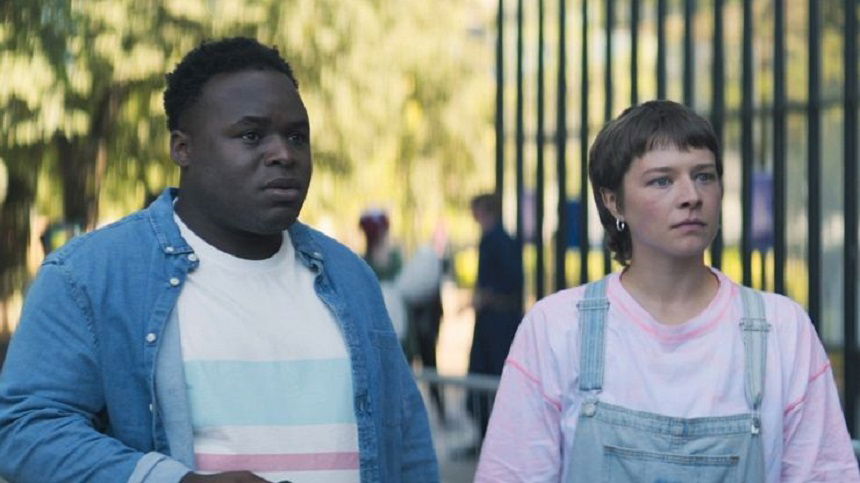 Gus, Elton and Emma are not only connected by the common experiences they have on their investigations. They also all experienced something traumatic in their pasts that affected them and seem to have drawn them together.
We'll start with Emma since we get to see her trauma first. Emma wakes up in the middle of the night to find her kitchen engulfed in flames and her mother standing in the middle of it. She next finds herself in a medical facility, pursued by terrifying spirits. We don't find out exactly what that business was all about until the last episode (and I'm not spoiling it) but she finds herself unable to connect with others and spends most of her time trying to escape the phantoms chasing her.
Gus's trauma happens when he was a young boy. He had a terrifying experience in his basement which leads to him being the subject of countless scientists and harassed by countless journalists. His family moved frequently to protect him, and as a result, he is socially awkward and doesn't make many friends.
As a crummy bonus, Gus's trauma also impacts Helen, as she develops agoraphobia and can't leave the house. Though she's able to reach out to others over the internet, she doesn't have any flesh-and-blood friends. Throughout the season, she's shown to be a skilled makeup artist and cosplayer, yet she can't overcome her anxiety enough to go compete in the cosplay contest at her local fandom convention.
Then there's Gus.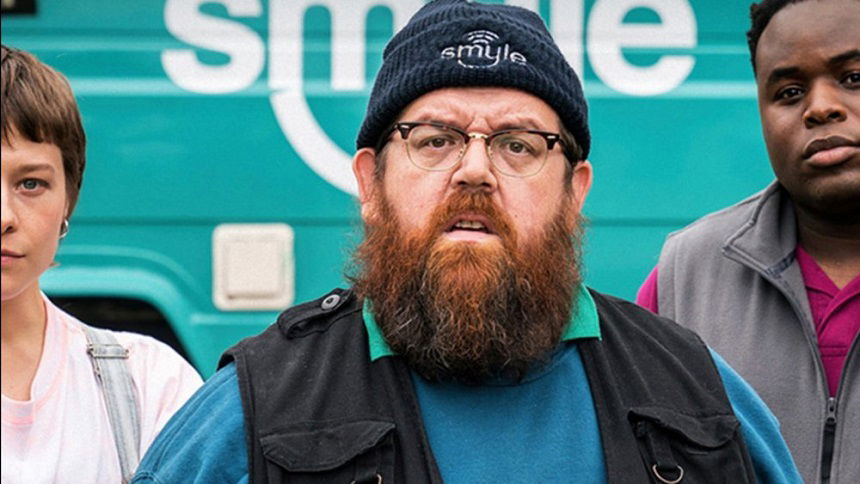 The death of Gus's wife, Emily, is the cloud that casts a pall over the entire show. It's implied that her passing was the motivation for him to immerse himself in the world of paranormal investigations and that he's attempting to communicate with her somehow. That detour off life's highway brings Elton, Helen and Astrid into his life and ultimately draws him into conflict with Toynbee.
All of those characters have been suffering for years but Truth Seekers also provides Gus and his friends with the remedy to their suffering. As the show unspools, the group bonds and becomes closer. They help one another bear their burdens and with caring people there to support them, they can each start to grow past their trauma.
Oddly, that was the main message I took from Truth Seekers. No matter what you've been through, no matter how scared or ashamed we might be of what we've been through or how we reacted to our experiences, we don't have to struggle through it alone. There are folks out there who have experienced similar trauma, people who have lost loved ones or struggled with addiction or faced down soul-killing loneliness. All we have to do is find them and be open-hearted enough to let them into our lives when we find them.
There was one other message I got out of Truth Seekers. That other message? Nick Frost is a total badass!