Susan Leighton
For most people, Eternal Sunshine of the Spotless Mind is the film that established Jim Carrey as an ACTOR. While I love his performance in Michel Gondry's production, I believe Bruce Almighty is where he truly shines.
Yes, I know. It's a comedy and it is tailored to his manic onscreen persona but if you dig deeper, there is more to his character of Bruce Nolan than meets the eye. Bruce Almighty reunited the comedian with the director that helped to make him a household name.
Tom Shadyac was at the helm of the hugely successful, Ace Ventura: Pet Detective. He also teamed up with Carrey again in 1997's Liar Liar. Both films were wildly profitable at the box office and cemented the funny man as a force to be reckoned with in Hollywood.
It is obvious that he has a chemistry with Shadyac. Their partnership is one that works because they are so in tune with one another.
Carrey's portrayal of a goofy field reporter who longs to be the anchorman at WKBW in Buffalo, New York is one that everyone who has career ambitions can relate to. Bruce Nolan is pigeonholed as the "man about town" who covers every local event from a bakery making the world's largest chocolate chip cookie to a business having a blood drive.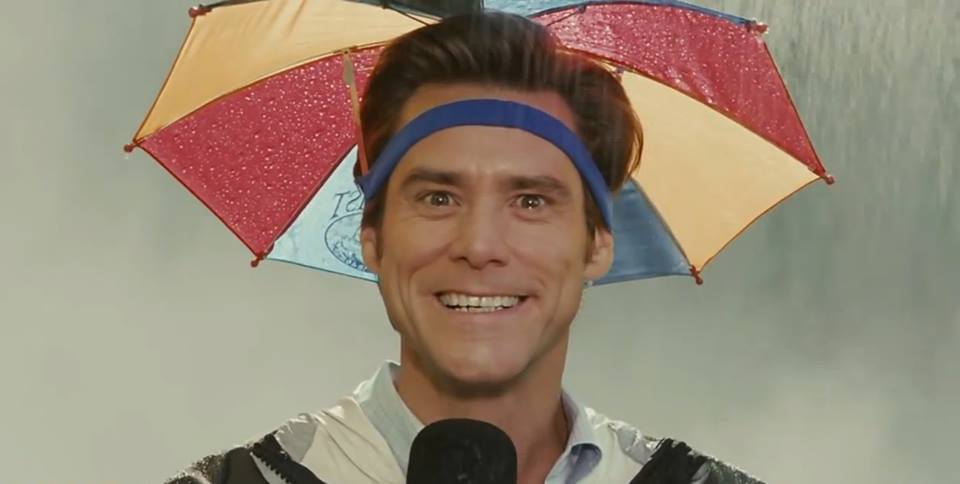 For him, it pays the bills but doesn't fulfill his soul. Nolan wants more from life. His patient girlfriend of five years, Grace Connelly (Jennifer Aniston) tries to understand what he is going through but when she urges him to focus on the good things in his world, it falls on deaf ears.
To make matters worse, Pete Fineman, the Walter Cronkite of Buffalo is retiring and Bruce has to compete with the obnoxious Evan Baxter (played to the hilt by Steve Carell) for the coveted spot. Of course, everything goes to hell in a handcart when Nolan is doing a live feed at Niagara Falls and he learns that his rival has gotten the anchor position.
While his on-air meltdown is hilarious, it is also painful and relatable. Remember that promotion that you thought you were a shoo-in for at your place of employment and the worst possible person got it over you? We can feel Bruce's disappointment.
After his outburst gains all sorts of attention (the wrong kind, obviously), Nolan is fired. Angry and heartbroken, he retreats to his apartment seeking comfort from Grace.
Railing against his misfortune and thinking God is out to get him, he manages to alienate the only person that truly loves him because he is a narcissist. Dejected, he takes his girlfriend's advice and attempts to ask the man upstairs for help despite not being a believer.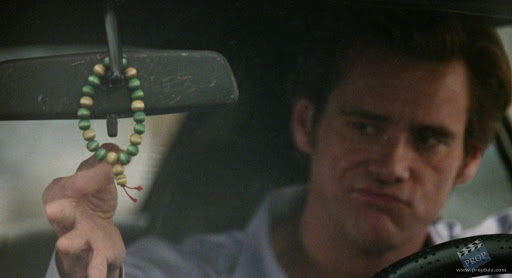 The universe steps in and Bruce receives several pages from an anonymous caller which he ignores. Finally, fed up with the harassment, he succumbs and dials the number. He ends up making an appointment because he believes that it might lead to a job.
What it does lead him to is a face to face with the Almighty (Morgan Freeman) who gives him an offer he can't refuse. Nolan gets to have God's powers.
At first, it seems fun. Bruce uses his new found gifts to see a girl's underwear, get new threads and a hot supercar to drive around town. He also manages to get his old gig back at the television station because he keeps manufacturing newsworthy events like Jimmy Hoffa's body being discovered and a meteorite crash that ends up creating a gigantic crater.
Instead of using his newfound abilities for good, in an inspired improv sequence, Nolan gets back at his nemesis Evan by thwarting his debut as lead anchor. What transpires is a bit of tongue-tied comedic bits that results in Baxter looking like an idiot paving the way for Bruce to get the job that he has coveted for many years.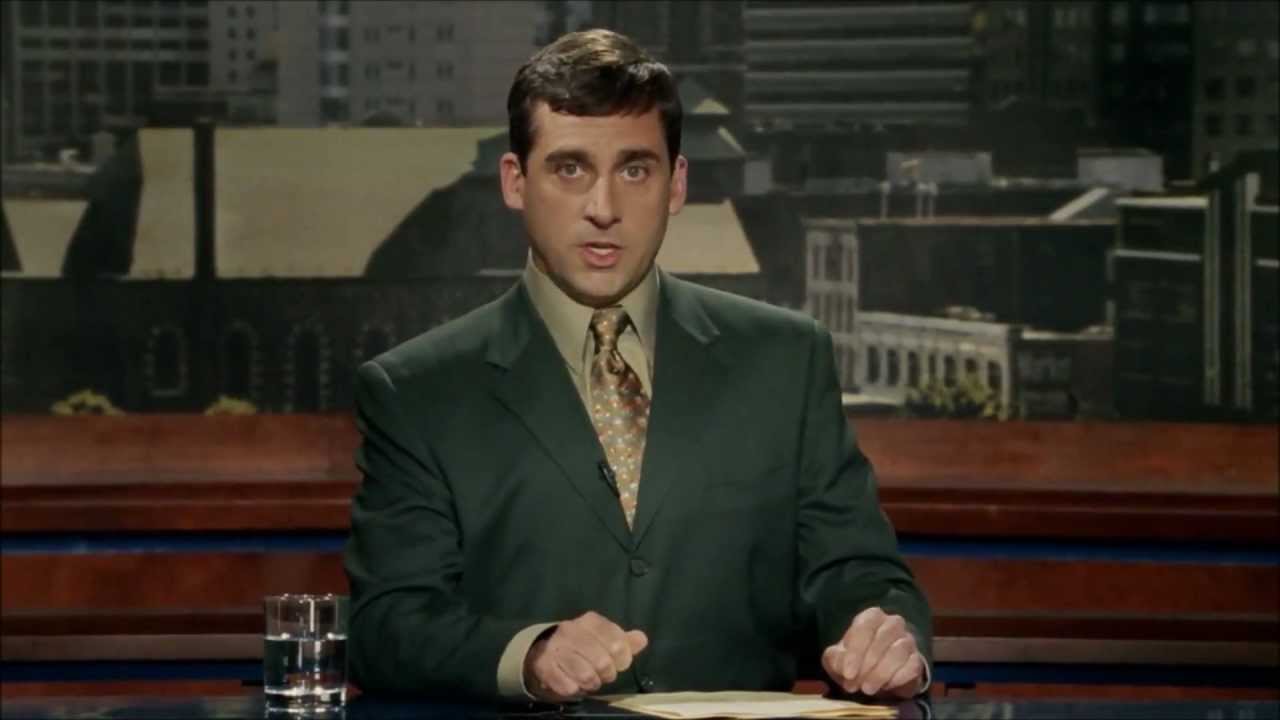 Wanting to celebrate the sudden turn of events, he takes Grace out to the restaurant where they had their first date. She thinks he's going to propose but instead he tells her that he made anchor.
Shattered at his insensitivity and not seeing how much he has hurt her; Grace moves out leaving Bruce to fend for himself. While it seems like he has the world on a string, it is actually imploding on him.
He tries to win back his girl but it doesn't work. After a talk with God, who suggests that he try to help people, Bruce attempts to answer prayers. Even that doesn't have the desired effect because he ends up saying yes to everyone which causes a disastrous chain of events.
While we are laughing at Nolan's plight, we are also acutely aware that his character is going through a transformation, one that will come at a cost. To celebrate his success, the station manager, Jack Baylor (Philip Baker Hall) throws Bruce a lavish party. He finally gets Grace to agree to show up.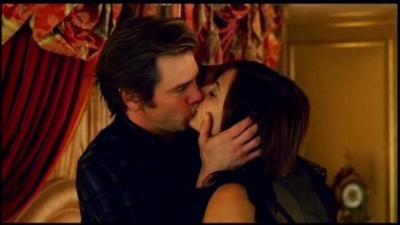 When she does, she walks in on him being seduced by his sexy co-anchor, Susan Ortega (Catherine Bell). Even though, Nolan has been fending off her advances, it doesn't look that way to Grace. Now, it would appear as if the love of his life will be gone for good.
Desperate to win her affections again, he finds out that she has always stood by him through thick and thin. He reads all of her prayers to God which are pure selflessness, asking for his help to make Bruce happy.
In the middle of this revelation, Nolan sees that Grace is praying again. This time, he visits her. Instead of beseeching the Lord on his behalf, she is asking for the strength to let him go.
Jim Carrey has always had an expressive face but this time, he doesn't use it for comedic effect. Just watching him realize that he has to do the right thing and give Grace up so that she can find someone who will treat her better than him breaks your heart.
At that moment, we feel Grace's pain and in perfect synchronicity, Carrey's Bruce enables us to see that just by the look in his eyes. This is why Bruce Almighty for me is his definitive film.
He moves beyond his typical over the top shtick and gets right to the heart of his character. Yes, you are still laughing at his antics but he has created a living and breathing three-dimensional person and not a caricature. We CARE about Bruce and want to see him be a better man all because of Carrey.
If you haven't seen Bruce Almighty in a while, revisit it. Everyone needs a little magic in their lives and Jim Carrey delivers.