Susan Leighton
The first time I "met" John Candy, was in 1981 when a local television station used to air the incredibly hilarious SCTV at 1:00 AM every Saturday night. To me, the Canadian series was on par with the original Saturday Night Live and the Not Ready for Prime-Time Players which included future comedy luminaries such as Chevy Chase, Dan Aykroyd, Gilda Radner, John Belushi and Bill Murray.
What made SCTV so inventive was the fact that it was a comedy sketch show about a fictitious network run by a pseudo gangster named Guy Caballero (Joe Flaherty). Of course, the station was populated with zany characters such as Mel Slirrup (Eugene Levy), the host of the American Bandstand rip off, Mel's Rock Pile, Sammy Maudlin (also Levy), a wanna be Rat Pack member talk show host, lounge lizard Jackie Rogers, Jr, King of the Nerds, Ed Grimley (both played by Martin Short), Lola Heatherington (Catherine O'Hara), station manager Edith Prickley (Andrea Martin), Gerry Todd, Video DJ (Rick Moranis), Bill Needle (Dave Thomas), The McKenzie Brothers (Thomas and Moranis) and Johnny LaRue, SCTV's version of Hugh Hefner played by John Candy.
A sheer delight to watch on the small screen, it wasn't long before Candy transitioned to film landing a role in Steven Spielberg's unfortunate box office flop, the epic comedy, 1941 alongside SNL alums, Aykroyd and Belushi. However, he would join the funny men again in the megahit John Landis flick, The Blues Brothers playing Detective Burton Mercer, one of the many law enforcement officers assigned to bring Jake and Elwood to justice.
Even though he wasn't the star of those movies, when he appeared on camera, your attention was riveted to him. There was something about his affable, sometimes bumbling ways that was a throwback to the days of Abbott and Costello or Laurel and Hardy.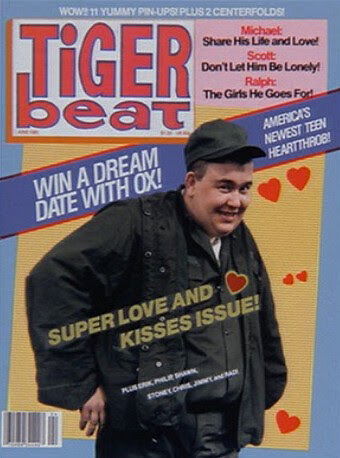 In 1981, Bill Murray's Stripes hit theaters. What was meant to be a vehicle for the comedian and screenwriter, Harold Ramis about two unambitious men who join the Army for kicks, ended up shining the spotlight on Candy. It was in this Ivan Reitman film, that audiences could see the powerhouse artist that he would become.
His character, Dewey Oxburger had some of the best lines in the movie as well as one of the most memorable moments. When Murray's John Winger takes his fellow platoon mates to a local mudwrestling venue for a night on the town, he convinces "Ox" that he should get in the ring to show everyone that he was on course to become a "lean, mean, fighting machine!" The match culminates in Candy channeling Three Stooges member, Curly Howard to win the match against a trio of bikini clad women.
As the years went by, John would go on to star in several terrific films like Splash, Brewster's Millions and Mel Brooks' Spaceballs, (just to name a few) before landing one of his penultimate roles as Del Griffith in Planes, Trains & Automobiles. Starring opposite Steve Martin as the uptight businessman Neal Page, Candy took his portrayal of Del, the lovable but overly gregarious shower curtain ring salesman to another level.
Sure, John Hughes wrote Griffith to be the comedic part while Page was the "straight man," but Candy infused his character with so many layers that you could see the pain beneath his attempts at being eternally optimistic. His character is grieving his beloved wife's death and is deeply isolated so he tries to force connections with other humans which doesn't always work in his favor.
When Neal hits his saturation point in the hotel room after being stuck with Del and unable to deal with his antics any longer, what results is one of the most moving monologues in cinema history. After Page hurls insult after insult at Griffith, taking his frustrations out on him, we can see every emotion play out across Del's face as he is wounded to the core by Neal's venom.
This is an Academy Award performance from a consummate artist who could make us laugh but also make us cry. Four years later, in 1991, he would do it again, this time opposite screen legend, Maureen O'Hara in Chris Columbus' romantic comedy, Only the Lonely.
Chicago cop, Danny Muldoon (Candy) lives with his domineering mother, Rose (O'Hara). Despite having friends and a job he enjoys, Danny is lonely. He longs for someone to share his life with.
When he meets the shy Theresa Luna (Ally Sheedy) at her father's funeral home, he is instantly smitten and asks her out. She accepts and the pair embark on a romance.
However, Rose does not approve of the burgeoning relationship because in her eyes, since Theresa isn't Irish, she couldn't make a decent companion for her son. Despite her misgivings, Danny continues to court his girl and finally, he proposes to her.
Eventually, Rose warms up to the idea of having Theresa as a daughter-in-law. On the eve of their wedding, Danny calls his mother to see how she is doing. Upset at the thought of never being alone with the man she loves; Theresa calls the event off and the pair separate.
Heartbroken, Danny decides to move to Florida with Rose but he can't get his love off of his mind. Wanting to see her son happy, Rose encourages him to win Theresa back.
Only the Lonely is a beautiful film that allows Candy to shine as a leading man and a love interest. Chris Columbus' script gives the actor so many opportunities to showcase his talent proving that he is more than comic relief.
In March, it will be 27 years since we lost this amazing man. Many have tried to imitate him, none have succeeded. He was a court jester with a heart of gold. Even though he left us too soon, John Candy's legacy lives on in his films where he can entertain us forever…