Jeri Klein
Destination Fear, it's the quintessential paranormal road trip show. The premise is simple and straightforward. Four childhood friends in an RV travel across the country from one haunted location to another with just one thing on their minds: how to out scare each other during their overnight investigations.
But scaring those who visit haunted locations by choice isn't easy. You have to dig deep into the reasons behind the fears, the underlying cause of why a thing scares you if you want to succeed in this endeavor. It's not for the faint of heart. Feelings will get hurt. Words will be said. Emotions will run high and all in the name of paranormal research.
That's the challenge Dakota Laden, Chelsea Laden, Tanner Wiseman and Alex Schroeder face during eight all new episodes of Destination Fear, beginning Saturday Nov. 6 on both Travel Channel and discovery+.
The premiere episode takes place at Twin Bridge Orphanage in Montana. Just the name alone conjures up so many of our worst fears - abandonment, child endangerment, being forced to stay somewhere against our will, abuse of power, and of course, demonic spirits pretending to be children so they can pull at our heartstrings and then possess our souls.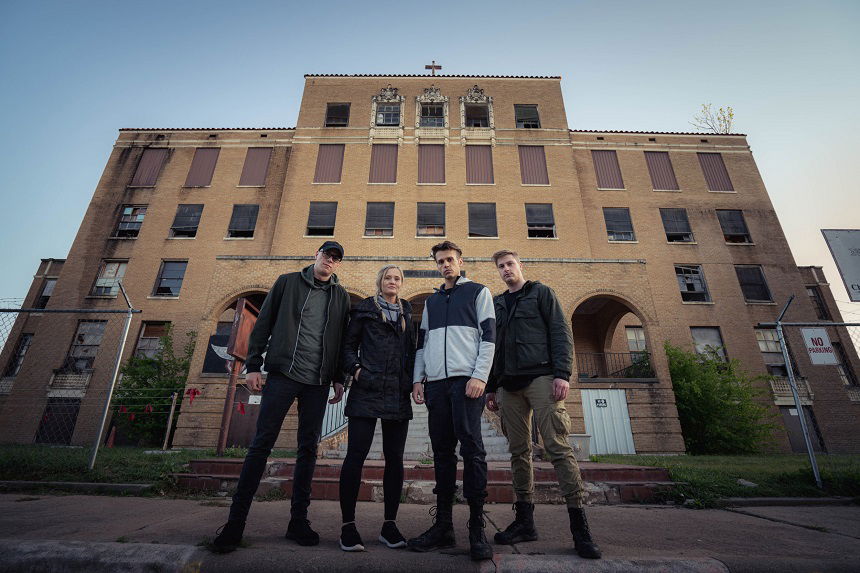 From there, the fearsome foursome head to The Old Nazareth Hospital. They say everything is bigger in Texas, and that includes the spirits who call the Lone Star state their home.
After perusing a few more health care facilities, a prison and a sanitarium for good measure (because what paranormal road trip would be complete without a visit to a haunted sanitarium), the Destination Fear team ditches their RV, at least for a little while, and heads across the pond to the Emerald Isle for not one but two episodes!
The first stop on their Irish tour de fear is Loftus Hall, a cursed 14th century mansion located in Fethard-on-Sea, in County Wexford. As the legend goes, in the 18th century, a stranger stopped by the hall (which was then called Wexford mansion), in search of shelter to ride out a dreadful storm.
Apparently, one of the other guests discovered that the stranger possessed a cloven hoof instead of a foot. Knowing he'd been made, the mysterious stranger vanished in a puff of smoke, never to be seen or heard from again. Just to be safe, an exorcism was performed a little while later.
The epic season finale concludes with a visit to Spike Island, better known as "Ireland's Alcatraz" or "hell on Earth." As these terrifying nicknames suggest, this is one of the country's most haunted prisons, so they'll need more than just the luck of the Irish to survive this one.