Jeri Klein
Discovery + has done it again. They've just announced a brand-new paranormal anthology series produced by… wait for it… Zak Bagans and Eli Roth!
That's right! These two powerhouse horror creators are joining forces for The Haunted Museum airing later this year. This discovery+ exclusive will feature scripted shorts produced by renowned genre director Eli Roth, with commentary by ghost hunter extraordinaire Zak Bagans.
The horror shorts in this anthology will focus on the spine-chilling tales behind some of the most sinister objects housed in Zak Bagans' infamous 30-room, 14,000-square-foot Haunted Museum, located in his home town of Las Vegas, Nevada.
Ghost Adventures fans like myself will recognize some of the featured creepy artifacts like the Dybbuk Box (a wine cabinet previously owned by a Polish Holocaust survivor that's said to be haunted by a malicious spirit known in Jewish mythology as a Dybbuk) and the Westerfield Dollhouse (a miniature replica of the historic San Francisco house of the same name in which satanic rituals were performed by none other than church of Satan founder Anton LaVey and occultist filmmaker Kenneth Anger). Of course, no spooky relics anthology would be complete without mentioning Bela Lugosi's allegedly haunted mirror. The actor was rumored to have dabbled in all things occult and may or may not have used the mirror in rituals.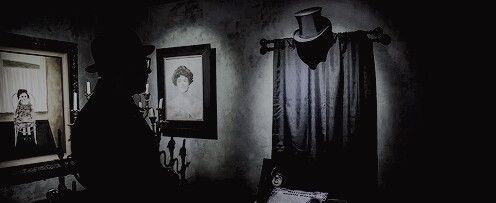 No one seems more excited about this new joint venture than the two collaborators themselves. They're fanboying just talking about each other, which warms my little goth heart.
Eli Roth on Zak Bagans:
"I've been a fan of Zak for many years and absolutely love his passion, drive and incredible research on all things paranormal. He has amassed a collection unlike any in the world, and we are thrilled to tell the stories behind these truly terrifying objects. What I love most is that the objects are all real and that people can go and see them if they dare. Zak opened the vault to us to pick the scariest and most fascinating variety of objects, and we have an amazing team of filmmakers bringing these stories to life. The show will not be for the faint of heart. Some people have nightmares simply looking at photos of the objects, and now we will be able to tell the stories of how these objects came to be possessed by something truly terrifying."
Zak Bagans on Eli Roth:
"Eli Roth is a master of horror, and I couldn't think of a more talented visionary to help bring the stories of my haunted collection to life. These are no ordinary objects; they impart fear and terror on those who come into contact with them. Now, with Eli's expertise for thrill-provoking storytelling, viewers will get the ultimate frightening glimpse into their real horror."
The Haunted Museum will premiere as a special two-hour episode, followed by eight additional hour-long episodes and I for one can't wait to watch them all!